Recunosc, atunci când călătoresc mă feresc de români. Pe de o parte pentru că îmi doresc alte experiențe, vreau să văd cum trăiesc și alți oameni, să le ascult poveștile, să le privesc expresiile, să le observ gesturile. Pe de altă parte pentru că cei mai mulți conaționali, atunci când călătoresc par să dea dovadă de un provincialism greu de egalat.
Țin minte, de exemplu, zborul Madrid-București de acum doi ani, când mă întorceam din Porto. Aveam senzația că sunt într-un film de Kusturica, lipseau doar găinile care să se zburătăcească printre scaune. În rest, toate condițiile te făceau să te simți în rata de Frumușani. Sau în vizită la rudele din Cucuieții din Deal, care nu te-au văzut demult și te întreabă tot ce vrei și ce nu vrei să spui despre viața ta, te învață cum să pui murături și cum să-ți crești copiii, din experiența lor vastă și absolut de neprețuit. Și te îndoapă cu mâncare și nu pricep cum de nu mănânci carne când ei ți-au gătit și sarmale și friptură și șnițele și mâine plănuiesc un grătar în cinstea ta în curte, cu toți vecinii de pe stradă. Cam așa… Pe scurt. Așa că prefer să dispar subtil dintre ei și să caut autismul nordicilor sau discreția și politețea detașată a vesticilor. Sau, și mai bine, un loc retras de unde pot observa cât mai bine ce se întâmplă în jur. De fapt, asta căutam. Acum, de când cu bebelușul, caut locuri liniștite, ferite de intruziuni, unde putem sta liniștiți, ne putem juca, putem dormi sau povesti.
Însă știți cum e, karma te urmează oriunde te-ai duce. Dacă pleci în lume cu gândul că fugi de problemele tale sau că le poți încuia în casa pe care o lași în urmă, îngropa sub o dală de beton în orașul pe care l-ai detestat atâția ani, mai bine te mai gândești. Vei fi dezamăgit. Problemele te urmează cum își urmează bobocii de rață mămica. Au nevoie de tine la fel de mult cum ai tu nevoie de ele. Doar pentru că ești tu în altă parte nu înseamnă că le poți lăsa de izbeliște. Îți vei face treaba cum te pricepi mai bine să le rezolvi, iar ele te vor forma și cizela așa cum se pricep ele mai bine.
Așadar, e clar că zburând din și spre România vei da mereu de conaționalii cu care nu-ți dorești să mai ai de-a face. Așa că, vei întâlni și cuplul care fumează la coadă la autobuz și se ceartă în văzul lumii, ea micuță și slăbuță, cu pielea de pe obrajilor ciupită de vărsat, el cu pielea îngălbenită de la fumul țigărilor pe care niciunul din ei nu se poate abține să le tot aprindă cu mâinile tremurând de nervi, amândoi tensionați, încruntați, cu maxilarele încleștate, priviri dușmănoase și gesturi smucite, ostile.
Și pe tăntița care, cum te vede că vrei să scoți bebelușul din sistemul de purtare să-l pui pe măsuța de schimbat în baia din aeroport, vine și te anunță autoritar: "Vă ajut eu!" după care îți desface toate cataramele sistemului în timp ce te străduiești să-l ții pe bebe să nu cadă, pe fondul protestelor tale pe care le ia drept timiditate sau strămoșescul bun simț care te-mpinge să te descurci singur ca să nu cumva să deranjezi pe cineva, Doamne ferește. Nu se gândește deloc la importanța spațiului personal, a comunicării și a respectului pentru alegerile semenilor.
Și, desigur, pe toți ceilalți pasageri din avion care simt acut nevoia să aplaude la aterizare, făcându-te să-ți dai ochii peste cap. Doamne, încă se mai practică asta?! Dar oare oamenii ăștia își aplaudă și frizerul când le termină de aranjat părul, dentistul după ce le-a pus o plombă, ginecologul după ce le-a făcut o ecografie, cosmeticiana după ce le-a smuls părul? În fine…
Și pe bătrâna care trece pe lângă noi holbâdu-se la bebelșul adormit în sistem la coada de la controlul pașapoartelor exclamând: "Dar nu s-a sufocat deja acolo??" De parcă noi nu am fi de față, nu am auzi sau nu am înțelege. Se oprește apoi în mijlocul culoarului, blocând trecerea și vorbind tare și strident cu prietenele ei.
Desigur, și pe bărbații cu sandale și șosete, pantaloni trei sferturi și tricouri polo cu gulerul ridicat. Și pe domnișoarele care se plimbă ca pe cat walk, cu picioarele goale și rochițe albe care abia le acoperă fundul, astfel încât nu mă pot abține să nu mă gândesc că-și freacă chiloții de toate mizeriile din avion și aeroport. Și pe doamnele de la Frumușani, îmbrăcate elegant și colorat, care tocmai au coborât pentru prima dată din rată și se poartă adecvat ca să marcheze evenimentul istoric. Ah și cum era să uit? Tipele machiate strident, cu gene false și ruj roșu spre portocaliu, cu pielea bine ascunsă sub un strat gros de fond de ten și pudră, întreg ansamblul făcându-le să pară niște clowni.
Sunt rea, știu. Foarte rea!
Ieșiți mai târziu din karma de neam, descoperim că aici, în acest loc luminat cu verdeață, loc de odihnă, de unde a fugit toată durerea, întristarea și suspinarea, ritmul e lent și așezat, zâmbim mai mult sau mai puțin tâmp, ne pupăm și râdem mult învăluiți în parfumul de soc și de trandafiri care plutește deasupra pajiștilor și a grădinilor fără garduri care încojoară case răsfățate, pe sub ploaia mocănească pe care verdele o soarbe pe îndelete, tacticos ca o doamnă englezoaică savurându-și ceaiul.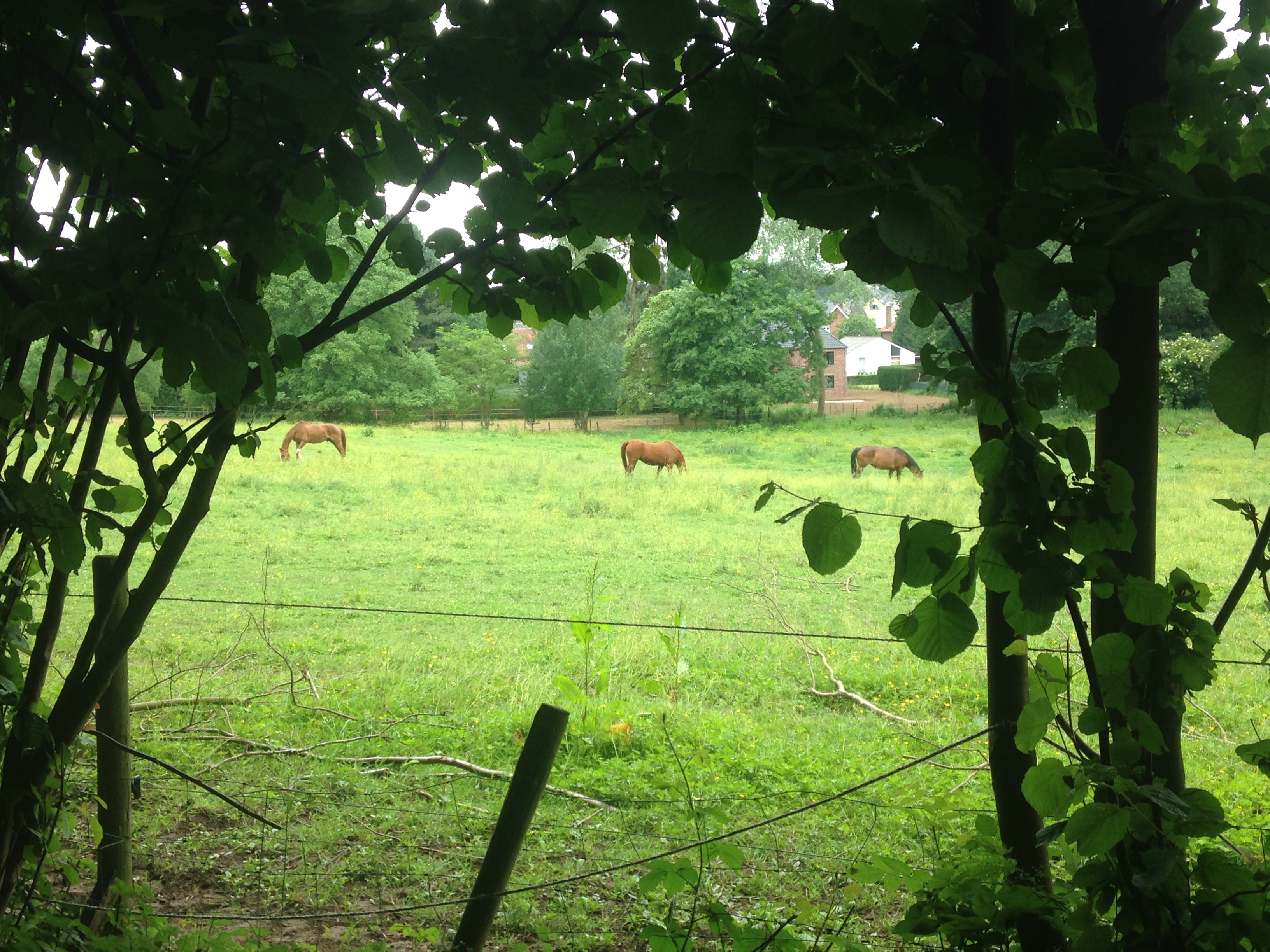 Facebook îmi zice "Good morning, Daniela! Stay dry today in Waterloo." Imposibil, deja m-am udat la picioare. Și, îngrămădiți sub umbrela prea mică, mergem din casă-n casă căutând-o pe a noastră. Ne gândim că n-ar fi chiar rău să transformăm acest soi de house hopping într-un obicei turistic peste tot pe unde ajungem în lume. Astfel, după ce ne rezervăm transportul și cazarea, să sunăm la câteva agenții imobiliare și să stabilim niște vizite în case în care ne-ar plăcea să locuim. Mă gândesc că ar fi ca o călătorie prin alte posibile vieți.
Casele sunt ca oamenii, mă gândesc. Sunt unele care te atrag de departe, dar când ajungi aproape te resping cu așa de multă forță că-ncepi să te-ntrebi dacă nu cumva ai nevoie de ochelari de distanță. Altele te atrag doar de aproape, ca o mireasmă suavă de parfum fin, doar puțin picurat pe sub lobul urechii – de departe nu ți-ar spune nimic. Altele sunt ca femeile tunate și știi sigur că n-ai să poți să strângi în mâini sânii ăia de plastic, deși arată atât de nenatural de bine. Altele au câte un detaliu atrăgător – cum ar fi picioarele lungi, un fund bombat, pectorali sculptați, sâni țuguiați, buze cărnoase. Dar, la naiba, privirea aia goală te-mpiedică să ai o relație cu ele. Și știi sigur, din prima clipă, că nu sunt the one. Iar când the one apare, știi de la distanță, încă înainte de a intra în raza ta vizuală, o simți undeva în străfundurile ființei tale și, deși poate are sânii lăsați, câteva kg în plus, fire albe sau a uitat să se epileze, te răscolește cu privirea ei profundă, te dă pe spate cu replicile inteligente și te învăluie în râsul ei contagios, astfel încât știi sigur că e a ta și că te oprești din căutări. Ba mai mult, te scoate cu totul din toate poveștile în care erai până atunci și, la scurt timp, nici nu-ți mai recunoști viața. Deși inițial ai tendința de a te opune, nu-i poți rezista. Eh, ce să-i faci…
Apropo de schimbat viața, ne hotărâm ca, după ce ne mutăm aici, să începem un proiect social de salvare a melcilor. Da, știm, e de mare angajament. Aici plouă des și melcii sunt peste tot. Peste tot. Chiar peste tot. În cadrul proiectului, am oferi transport gratuit melcilor care doresc să traverseze strada sau trotuarul până în cea mai apropiată grădină. De asemenea, am repara fracturi de cochilie, iar melcii homeless ar primi, desigur, cochilii pe care le-am putea confecționa din materiale naturale – de exemplu, unghiuțe de pitic colectate și lipite printr-un proces foarte laborios și minuțios. Intenționăm să accesăm fonduri europene. Cauza melcilor are potențial și e de maximă importanță.
Un drum printr-o pădure bătrână ne aduce o întâlnire cu câțiva căluți tare simpatici și ne hotărâm să ne apucăm și de echitație în puținul timp liber pe care l-am avea odată început proiectul cu melcii.
Alte câteva detalii:
Spanioloaicele gălăgioase de la hotel, pe care am vrut să le lipesc de pereți, dar m-am abținut până când tovarășul de viață a ieșit pe hol la ele și le-a spus foarte frumos: "Please go back to your rooms."
Agenta imobiliară care se străduiește să ne convigă că proprietatea pe care tocmai am vizitat-o nu este potrivită pentru noi pentru că este umezeală la subsol, mușchi crescut pe acoperiș și proprietarul nu pare dornic să repare problemele. "You know, I rent and sell houses, this is my job. But I have to be honest." Mă umplu de recunoștință, am întâlnit încă un suflet prieten.
Căldura de duminică m-a convis de necesitatea unei grădini în care să ne lungim ca șopârlele la soare. După ce am salvat de la pieire toți limacșii care ne ies în cale.
Târgul cu bunătăți și alte chestii de lângă gara din Waterloo mi-a adus aminte de târgurile de lângă calea ferată de la stadionul din Petroșani. Deși nu erau cu bunătăți.
Locul ăsta seamănă mult cu Suedia – lumină până noaptea târziu, păduri și lacuri, răcoare. Doar că oamenii, în loc să se întoarcă din drum când dau nas în nas cu tine sau să se uite rapid în altă direcție, îți zâmbesc și te salută. E o Suedie mai mică și mai prietenoasă, unde chiar poți să-ți găsești chirie ca simplu muritor.
Tăcerea dintre noi în drum spre gară, liniștea interioară care s-a lăsat ca ceața în văi.
"Dacă e a noastră lucrurile se vor lega și, dacă nu, găsim soluții" mă asigură tovarășul de viață mascându-și propriile frici. În ciuda temerilor pe care le avem, că doar oameni suntem, avem încredere în propriul destin și așa abordăm orice ni se ivește în cale. Deși mai cădem și-n agitație și stres, capul e mereu deasupra valului.
În coada de români de la ceck-in, bulucindu-se nerăbdători, așteptăm cuminți distrându-ne cu bebe când o familie din fața noastră se dă frumos la o parte și ne spun, serioși și politicoși: "Noi vă lăsăm să treceți în fața noastră, sunteți cu bebe." Deși inițial refuzăm, oamenii insistă. Există și așa ceva.
Cina în aeroport, ca-ntr-o oază de liniște într-un deșert de agitație. Pianul.
Stânjeneala de a nu ști în ce limbă să-i mulțumești domnului care se apleacă și îți ridică trolerul răsturnat peste bagajul unui alt domn la coadă la îmbarcare, cu bebelușul în sistemul de purtare și tatăl bebelușului ocupat să organizeze celelalte bagaje.
-Please leave them open, îi spun însoțitorului de bord ca să apucam să ne punem bagajele după ce am ajuns chiar ultimii oameni în avion.
-Ce doriți? mă întreabă el încordându-și pectoralii intens lucrați la sală și eșuând să mă impresioneze.
Bebelușul, după supt intens și somn profund în timpul decolării, își face prieteni în avion zâmbind cuceritor și povestindu-le vrute și nevrute în limba bebelușească. Insistent. Până când toți pasagerii din jurul lui râd topindu-se sub privirile lui și un nene chiar scoate telefonul să-i facă poze când îl atenționez ferm că nu sunt de acord. Plâns și oboseală apoi.
Privit cerul.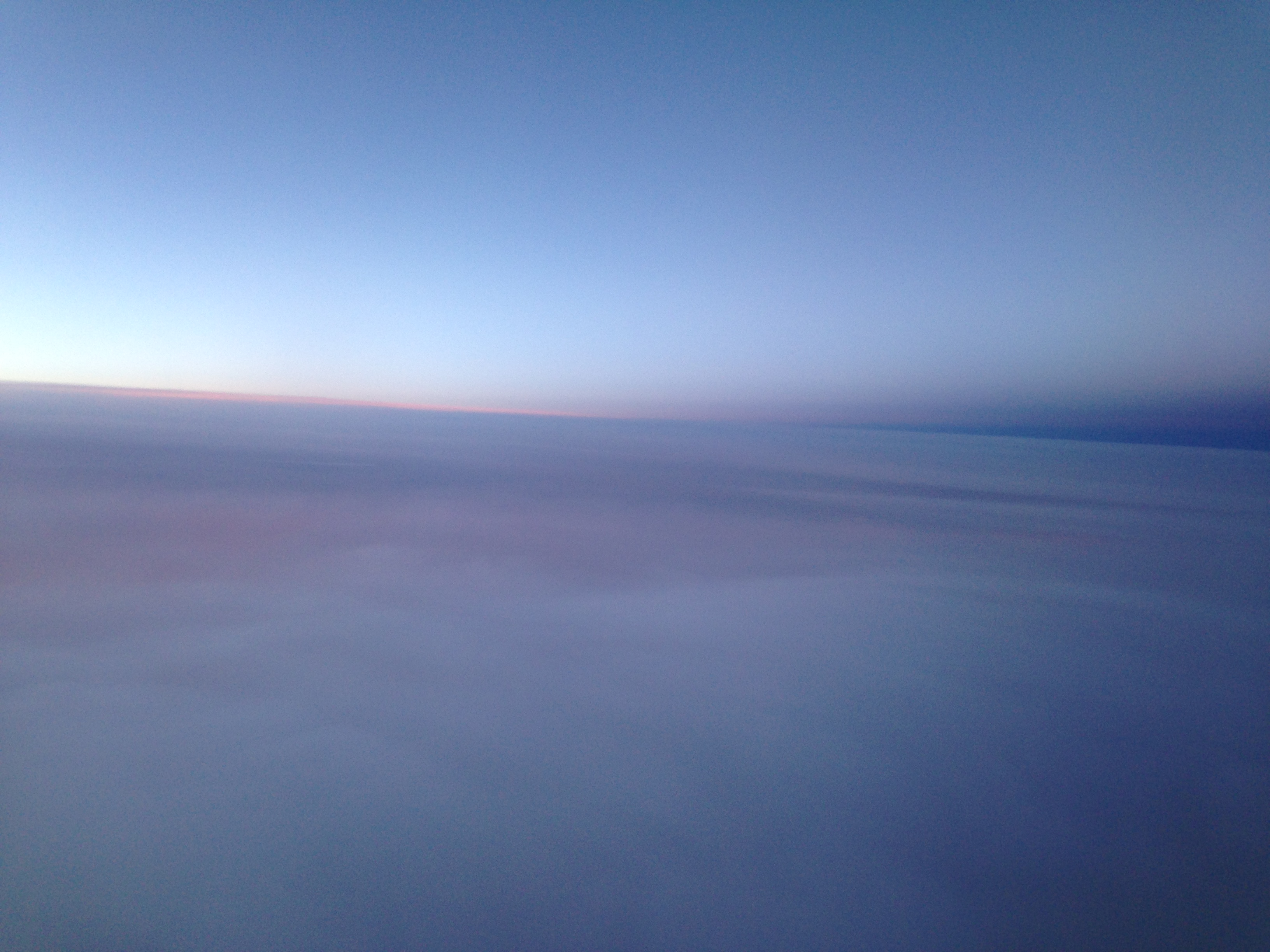 Ne întoarcem ca să ne facem bagajele.