I wake up at 7 and have breakfast on the sunny terrace with the perfect view of Göreme and then head to Angelos Travel, where Samet happily greets me and offers coffee. He's busier and more official today, as customers are quietly occupying the entire sitting space of the office – a couple, two girls and another girl travelling alone, who sits next to me. I know I'm going to make new friends on this tour, but at this point I still don't know who and I start thinking maybe it's her. But she's so busy with her phone all the time that I don't find the space to squeeze in an introductory line, so I wait patiently, warming up my hands on the hot latte cup, licking small teaspoonfuls of the white milk foam on top.
Two men come in and announce that the mini bus is there and we should go. They make sure we're on the red tour and then direct us to the white mini bus waiting in the parking lot in front of the agency. I go and sit down in one of those single seats on the right, making sure I have everything I need with me. The solo Asian girl sits down somewhere on the left, closer to the front. The first few stops are at various hotels in the village and so several people get on until almost all the seats are taken. An Asian guy travelling solo sits down next to my potential friend and they quickly hook up.
"Where are you from?" the guide asks.
"Spain", the two girls answer.
"Turkey", says one couple and is followed by another and then several other people.
"Korea", says my former potential friend.
"Korea", answers her new potential boyfriend.
"India", another couple's answer comes from my left.
"Romania", comes my answer.
Once we're all aboard, the guide starts giving us information on the tour. I usually hate guided tours, but today I feel it's the best choice I could've made. I can just sit back and relax, I feel taken care of. The first stop is Uçhisar, a natural castle on a hill – the highest point in Cappadocia, but inaccessible to us now. Here we get some information about the area and I like finding out that Cappadocia comes from the word 'Katpatuka', which the guide says means "country of beautiful horses", inhabited for the past 4000 years.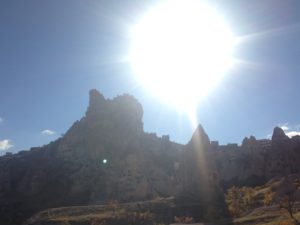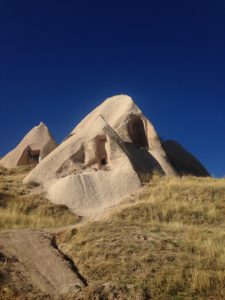 As I'm climbing the hill taking pictures and enjoying the view and the silence, I hear a woman's scream piercing the silence and I quickly spot her on a lower hill, her jacket being bitten by a donkey she was feeding. The sky is crystal clear, the sun is shining and it's so cold that I congratulate myself for my choice of warm clothes today.
"Where from in Romania are you?" the Indian man asks me before getting back to the mini bus.
He's in his sixties, white haired, mustache, plump and a bit slow, floating on such a peaceful cloud, yet not at all aloof, smiling every time our eyes meet, so good at covering his pellucid sadness, painted about him in shades of light blue and grey – a garment he's been carrying not from this lifetime – betraying a kindness that has survived quite a few disappointments.
"I live in Bucharest."
"Really? I have many friends in Bucharest. At the Institute of Nuclear Physics." he says.
"Really?! I've just met someone who works there, actually. Postdoctoral position, he's from Turkey, just moved to Bucharest. I owe him this trip, actually, he recommended I should come to Cappadocia, I was just planning Konya."
"Well, it's a small world. I met my university teacher's PHD guide on one of my travels. Our son works in Istanbul. That's close to Bucharest."
"You should come to Bucharest." I tell him.
"Maybe we will one day."
"Are you into physics, too?" I ask hesitantly.
"Yes, I am." he replies in a low voice and I sense that there's a little extra information being pushed back down his throat and so I quickly pick up his modesty. He later mentions in passing something about giving a lecture in Edinburgh, which makes me start wondering who he actually is in the world of physics, a science that wanted nothing to do with me all through my school years.
His wife is so beautiful. She seems a bit younger than him and so full of life, strong, talkative and outgoing. I secretly admire her hair and that air of confidence and adventure around her, which Romanian women her age are totally lacking. She seems to do so much without letting any effort show. Her strength transpires through all her pores and she can still manage to be so feminine. I'm so curious and try to pick it up – the secret of living with your strength.
The driver is standing close by and looking at us as we're having our cheerful conversation and I feel so grateful we are laughing together – me and my new Indian friends. When the driver's patience runs out, he tells us to get into the minibus.
"Everyone else is already waiting", he adds turning and I realize he's right and I am surprised by the stretch of his patience.
So we go back into the mini bus, resume our seats and, a few minutes later, we are at our next stop: the Göreme Open Air Museum. Our guide leads us to this sunny terrace and attends first to the Turkish part of the group, so the English speaking half is taking pictures and warming up in the sun.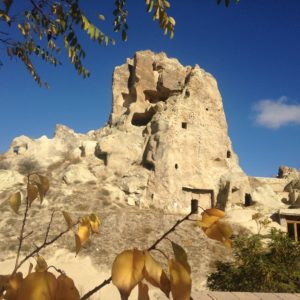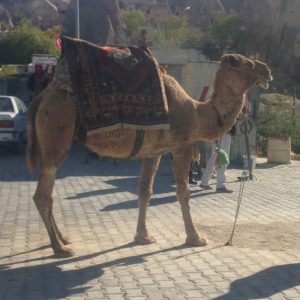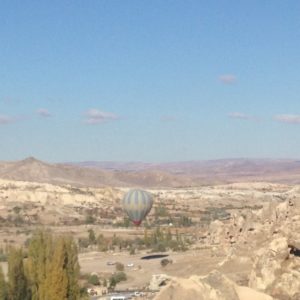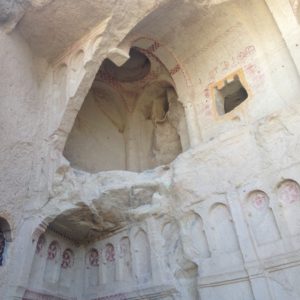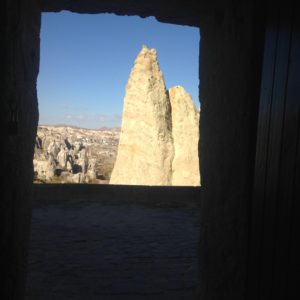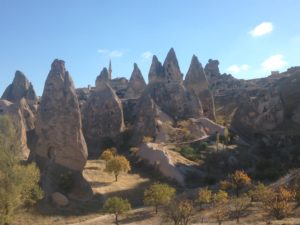 I perceive the silence as I'm waiting, the kind you get in a holy place. I feel like being quiet, as if words were not necessary here, so I just smile and take notes and photos. I later find out this is a religious complex which used to be inhabited by a Christian society and there are around 400 orthodox cave churches here. It used to be a refuge for the persecuted Christians, where they made churches in the naturally formed caves and underground cities.
"Muslims and Christians lived here together in peace before the 8th century AD", says the guide. "In 1923 there was a population exchange between Turkey and Greece and all the Christians left Göreme." These caves, he informs us, "used to be monasteries, hospitals and hotels for pilgrims at the same time" and are now a UNESCO world heritage site.
Once inside the first church – St Basil Church – I feel such deep respect for what used to be here and get this inner shiver and I think I'm going to start crying again, but the short time spent inside prevents that and I am out in the sun again, quiet and pensive. As the guide is telling us the story of the church, a butterfly visits the group.
We head to the next church, the Apple Church, and I cannot help making a note of the presence of a card with number 9 written on it – for the audio guide – right on the altar stone. The painting inside is in natural shades of blue, brown and yellow and I am touched by the elegant simplicity. To think I had no idea where I was coming to…
In the next church, the Snake church, I am impressed by the painting and legend of St Onuphrius. The guide first asks us whether we think the saint in the painting is a woman or a man and everyone concludes it's hard to tell. He says there are two versions of the saint's story – either he's depicted with his chest covered in a lot of hair or, legend has it, the saint was actually a woman (and the two big circles on her chest that are interpreted as hair because of the beard stretching down to his/ her feet are breasts) who was a prostitute and she converted to Christianity and begged God to make her a man so that men would not force themselves on her anymore. God took mercy on her and made her half woman and half man.
As I'm walking in and out of these cave churches, taking in the atmosphere and trying to feel more than just see, I start wondering about the Turkish physicist's role in my life. Since he came into the picture, I've had a really bad fall with my bike and I came to Cappadocia. And I've just met someone who's into physics, too. And what about Turkey's role in my life? For the third time this year I'm in Turkey. And one of my students comes to Turkey at least twice a month. All my life so far I've never been attracted to this part of the world. And here I am now, in love with the place, the language and the people.
"You should come to Mumbai and visit the Elephanta caves." the Indian couple tell me. And we take pictures of each other and have pleasant and quiet, affectionate exchanges as we're walking up the hill. "I guess we are all so similar" the Indian woman tells me, "we have gone through such similar things in our history, we have similar experiences". And I just love that.
Our next stop is Çavuşin, an old Greek village up on a hill which we climb on one side and descend on another. Deserted houses, some for sale, to be turned into hotels. Reminds me of Crete and Spinalonga. As we're going down the hill and into the minibus, adhan starts and there's this Turkish woman standing outside her yard, leaning against the wall outside her house. She makes me dream up stories about her life behind those walls.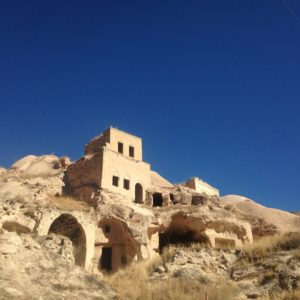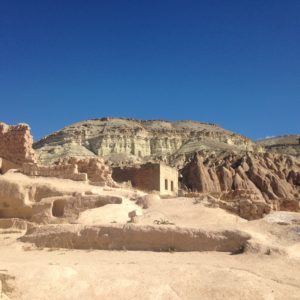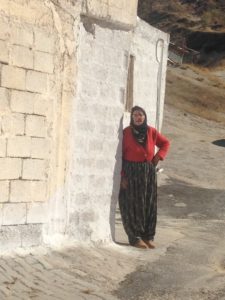 Then it's lunch at the Han Restaurant somewhere in Avanos. This big place that seems to be in the middle of nowhere, up on these high stairs, open buffet, long tables, many groups of tourists. We sit down and I stick close to my new friends, the Indian couple. Across the table this Turkish girl keeps staring at my bruised face when she thinks I don't notice, but I notice every time and look at her smiling when I feel her eyes on my blue skin. I try food I don't know, as I always do. And I eat too much. As I always do.
"If a man wanted to marry a girl, he had to make a pot with a lid, no measuring. If the lid matched the pot, he could marry her.", the guide at the pottery factory later explains as a big, mustached Turk performs the demo on the wooden pottery wheel. "You can notice his skill", he continues as the Turk is now holding a round pot with a lid, freshly come out of his big hands.
"So it means he must already be married since he's so good, isn't he?" I ask.
"He is and he is now looking for the third", the guide explains and we all laugh.
As we're watching the demo and listening to the explanations, we're all sitting around the room, drinking cay from the traditional small tulip shaped glasses before we are led into the shop and informed everything has a 50% discount because it's off season.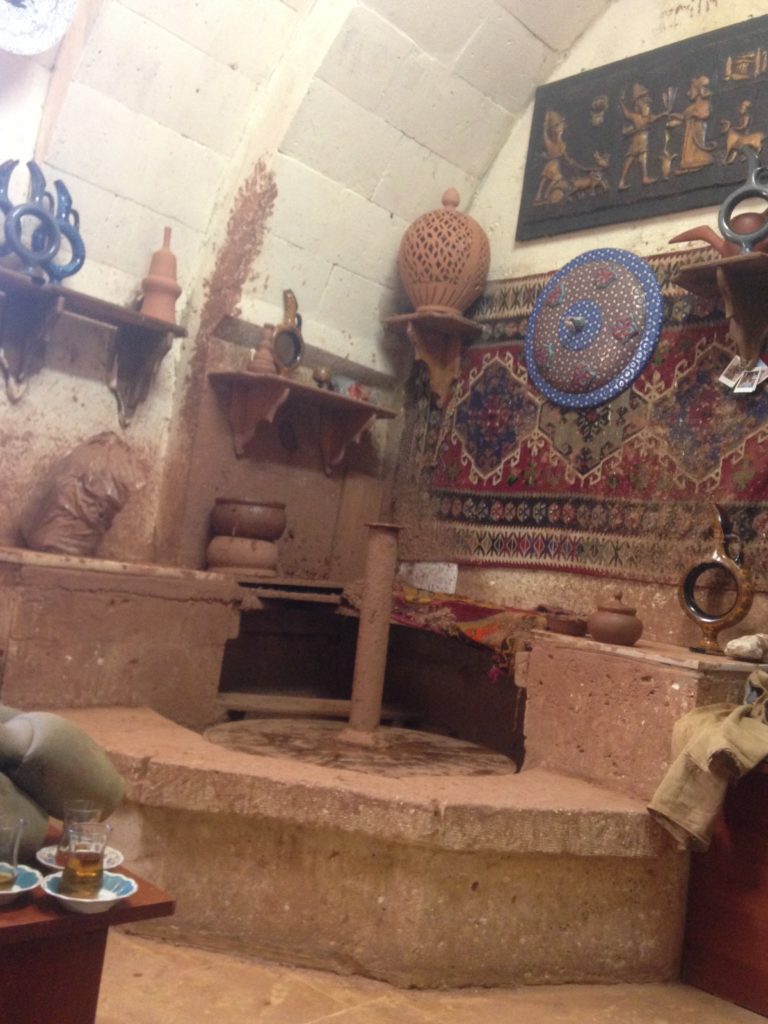 "Where do you come from?" the guide asks me.
"Romania."
"You look Turkish."
"Everybody tells me that here. Thank you."
As we're walking around the shop, dipping our fingertips in bowls of various sizes, colors and designs, I am close to the Indian couple and when we come next to a shelf with sleeping cats, one leg hanging on the side of the shelf, the woman tells me their son used to live in London and sold his house there and moved to Istanbul. Went to cover a political story as a journalist and just didn't want to go back afterwards.
"He earns half of what he was earning in London, but he loves the city. It is so vibrant, he says.", the woman explains.
"Wow, what a story! To leave London for Istanbul!" I reply, secretly thinking I am crazy enough to go and try to live anywhere.
"I'm gonna pay by card." I tell the cashier after the shop keeper packs my bowls.
"Money is money." he replies shrugging his shoulders.
We cross the Red River and the center of Avanos and get to the carpet factory. Women are weaving and, as the guide is telling us that a carpet takes between six months to one year to make, I'm paying attention to the weavers. I'm thinking they're probably happy to have a job and know a skill. But looking at their bent backs as they're sitting on those benches, at their hips and fingers, I know the job takes its toll on their health. They must have so much time to think about things, I conclude as I'm moving into the silk making room. Here the warm, moist smell of death lends the room a rather sadistic touch. The worker on duty here shows me a dead worm and it's the first time I've seen a silk worm. I then steal a silk cocoon from a pile on a table. I remember how much I wanted one when I was visiting this shop overlooking the sea somewhere in Crete a few years ago. I'm still thinking about the karmic implications and wonder if I've just secured one more trip to Turkey. A longer stay perhaps, next time?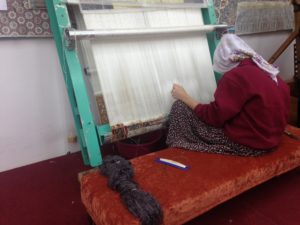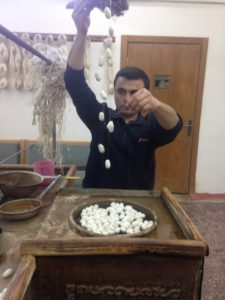 "First, what would you like to drink? It is part of Turkish hospitality. If you drink something, it doesn't mean you have to buy a carpet. I hope I am clear." Bayram, the white haired, blue eyed salesman in his mid fifties explains.
I've already had cay at the pottery shop, so I ask for apple tea and the Indian lady quickly reminds me I was curious about the local wines when we were having lunch.
"You should try it", she insists.
"You can have two drinks", the salesman says and orders wine and apple tea for me.
"Weaving started with Turkish nomads. They had wool." the salesman says as he and his colleagues keep unrolling carpets before our feet, stepping on them all the time as if wanting to show us they're so practical albeit precious and expensive.
"What are you writing?" the salesman asks me.
"Just taking some notes, I'm a writer."
"Are you writing a book about Turkey?
"I haven't planned that. Yet… I'm now covering my journey on my blog."
"Is it in Romanian?"
"No, English."
"I would like to read it."
After the presentation is over, I get up and walk around the carpets, inspecting them and admiring the colors and patterns and I hesitate before stepping on them.
"We can make you a good offer. Which one do you like?"
"This one", I say pointing to a medium-sized, silk on silk turquoise carpet.
"Oh, you have the expensive taste."
"Well…" I reply and cannot argue.
"We can make you a good deal on this one too."
"I'm sure you can, but I still can't afford it." I reply smiling and feeling very relaxed in the reality of my situation. "Unless you make it a gift", I continue with a giggle, after a short break.
"I'd love that, but my boss would kick me and my wife would kill me", he replies.
The Indian lady really likes the carpets and insists that her son will come from Istanbul to buy carpets for his house. The salesman would like to strike a deal with her and keeps suggesting that she should buy a carpet for her son's new house herself.
"My son is very picky", she says, "he never likes what I buy for him, so I don't buy him anything, I let him choose whatever he likes."
"Is he married?" the salesman asks.
"No!" she laughs, "Nobody wants him. He can't keep a girlfriend for more than a week." she adds making my laughter, unleashed by the red wine, fill the room and roll all over the expensive carpets at our feet.
When we leave the factory, after I give Bayram a note with the address of my blog and he carefully reads it out loud appreciating the name, adhan starts again and we are now heading to Paşabağ – mushroom valley.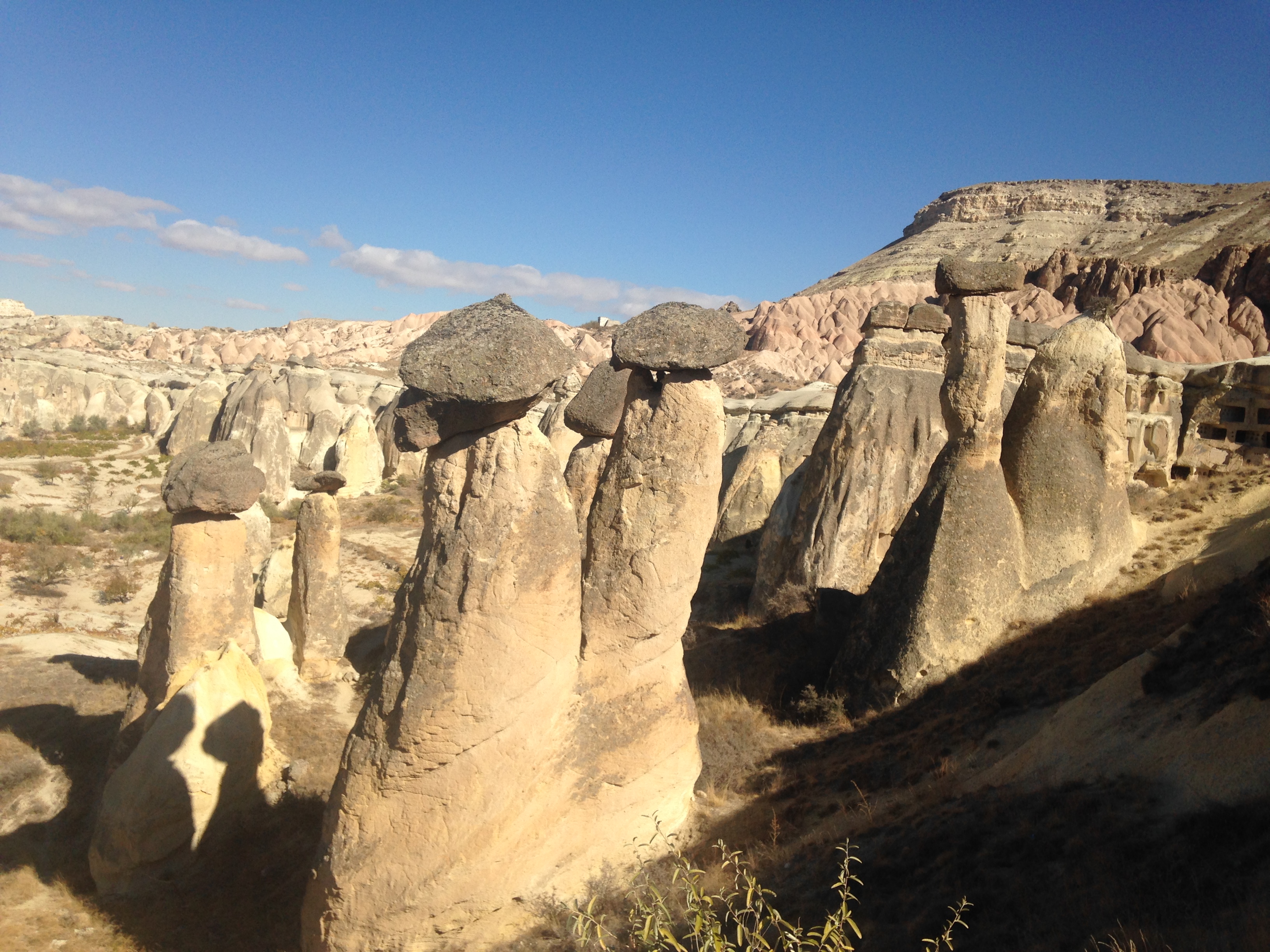 "In a few years, all these formations will fall down. But others will be formed. Just like human life." the guide tells us while we're admiring the valley in its pink splendour.
We then go to Devrent Valley – Imagination Valley – where we imagine shapes of animals and we laugh at what our fantasy chooses to see.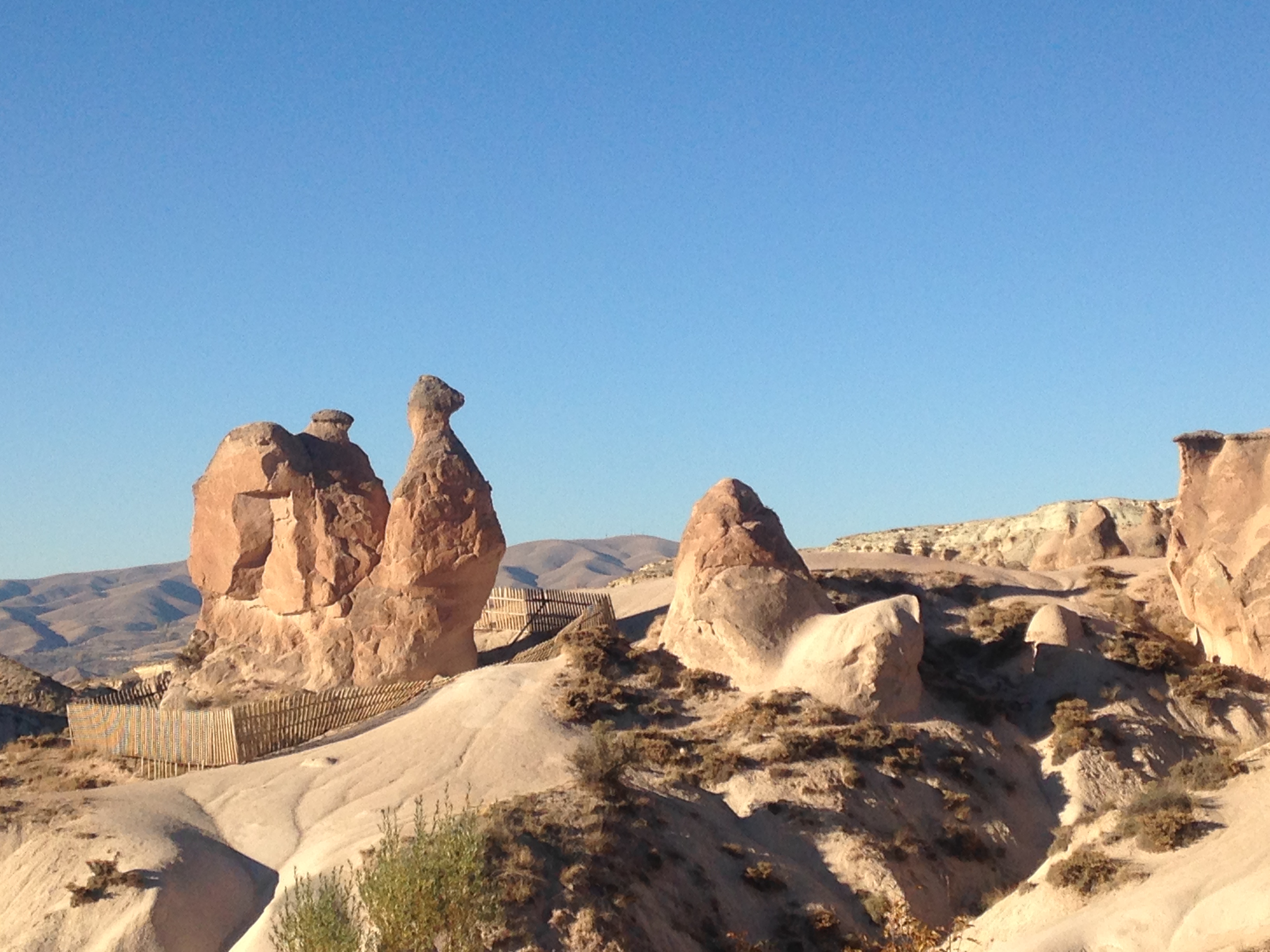 "Do you see the rabbit there?" the Indian lady asks me and then she quickly points at it for me and I see it too – a huge rabbit head emerging from the ground, bent backwards a bit, ears pointing up. She takes a picture of me and we're off to our last stop – Urgur with the three beauties.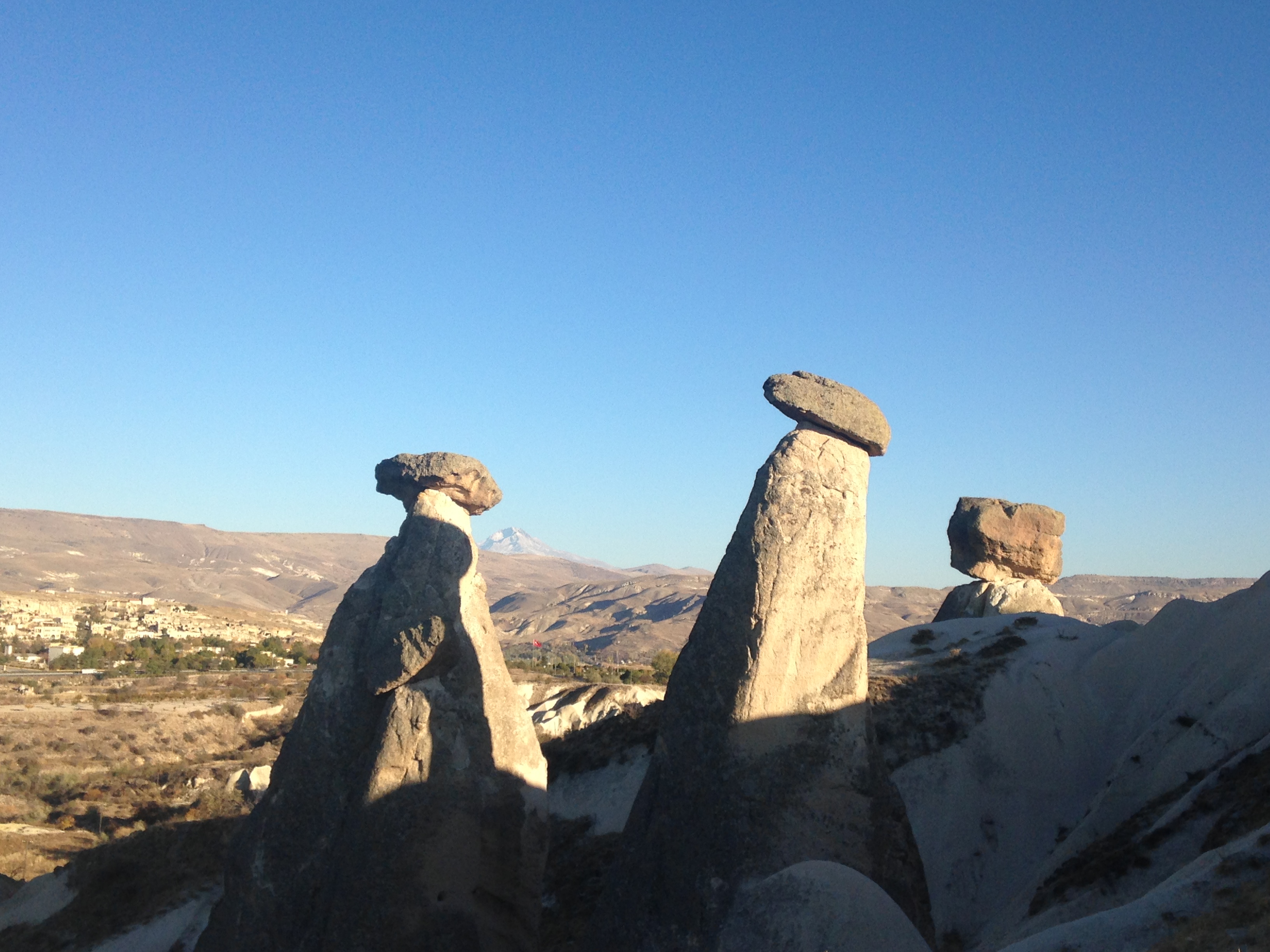 I play and turn my fragile and temporary shape into a Cappadocian formation: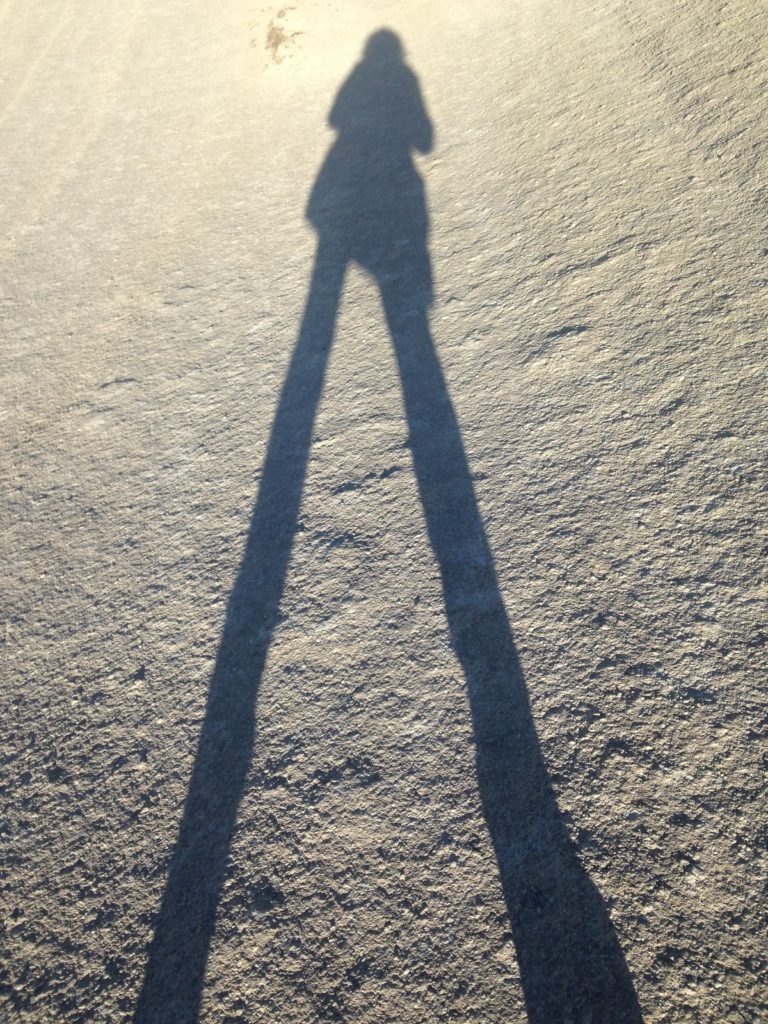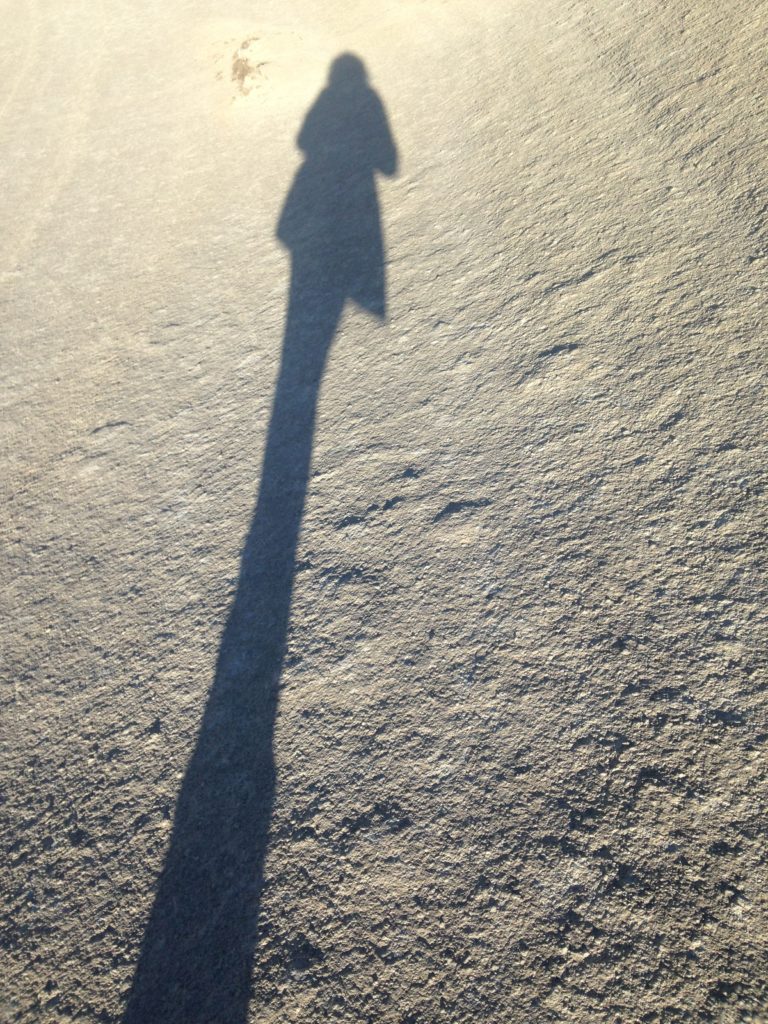 I give my contact information to my new friends before the mini bus drops me off in front of Angelos Travel and the sema follows and then I leave the safety of the caravansary behind.