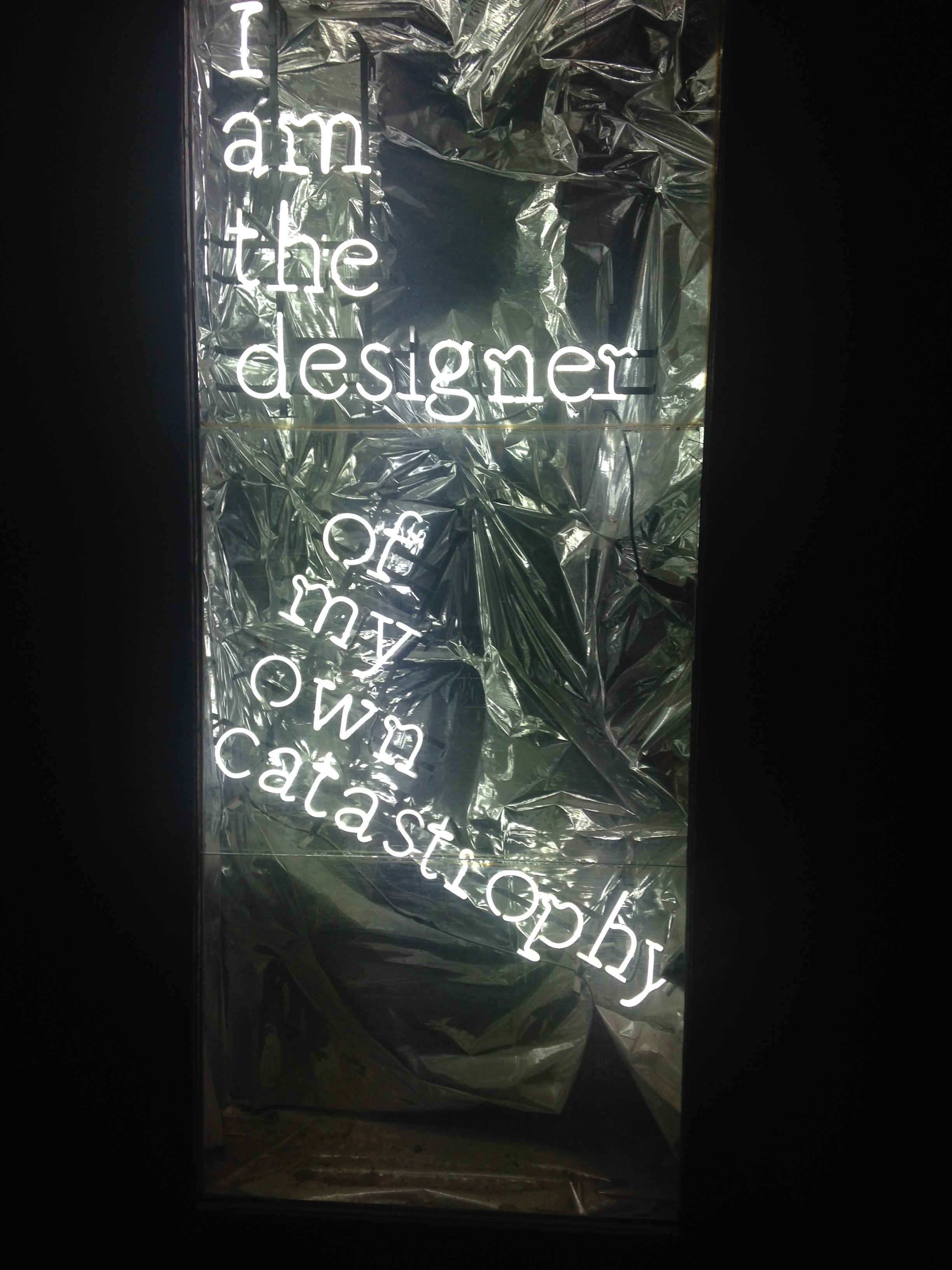 It's the second day after my return from my birthday trip in Turkey and all the adventures I've gone through (some of which I still have not written about). I've got two theater tickets as a birthday present from a friend. Before leaving, this guy I met at an outdoor party earlier this autumn, the friend of a friend, wants to set up a date, so I tell him about the tickets and invite him to the theater in a week's time. It's Sunday night and I put on a black dress, a shiny cardigan and my oriental perfume, I pick up my oriental purse and I go down the stairs, my right eye still purple and yellow, my mind still wandering among fairy chimneys in Cappadocia and my heart still with Shams in Konya. I don't want to be here. And I don't want to be there. I just want to disappear.
He's waiting in front of his car and when I come close, he kisses my cheeks and I hug him. We get into the car and start talking. I'm making efforts to be here. He's a truly nice guy. The kind you want to settle down with. He's determined to be serious and detached, a bit too detached perhaps. I tell myself the lack of chemistry is just a byproduct of my aloofness. We can get over it. If we are planning to take a nap together maybe. Or just have endless, serious and intelligent conversations about important life issues.
It's still early, so we leave the car close to a park and take a short walk together before going into the theater. It's a fine night and I'm feeling beautiful, independent and smart. It's not one of those dates when you try hard to impress the other one or are feeling in any way inadequate or there's a teasing war going on, making all your muscles tense. I'm feeling perfectly fine. And not at all attracted to my date. Unfortunately.
We get to the theater, leave our coats on the same hanger at the cloakroom, I wait for him as he goes to the rest room and abandon the thought of visiting the place myself when I see the long queue of women moving slowly, all shiny and perfect and bored. We then get in and find our seats. They're very well placed and I enjoy lifting my feet as the seat balances under me, lowering my ass and bringing my knees close to my chest. The room is full and I can't say I like the vibe of the audience.
The play begins. This old couple at night, in their beds. He wants to leave her. She's snoring. He brutally wakes her up. They start a fight. "You're an ass. You've never been more than an ass! That's what you are!" he screams and the word "ass" reverberates in all the chair seats, making us all feel a bit guilty for hearing it. They've been together for thirty something years and know exactly what to expect from the each other. After fighting all night, they decide to stay together. Because they conclude being alone is worse than being unhappy in their crappy marriage.
I keep startling when this horrible song starts, although the moment is predictable, announced by a short silence on the part of the actors and the lights going down. I hate it so much that I have to cover up my ears and crouch in my seat, trying to make myself smaller as if by occupying less space my body could feel less present. My date, sitting on my left, looks at me from time to time and giggles from a safe distance. People are laughing at the stupid, vulgar fight and I am truly horrified. The only thing that could be remotely funny (if it weren't painfully ironic) is the fact that I'm actually here on a date.
"Oh, God! I shout when we finally get out. We need a drink now. A shot! A couple of shots! Although I never drink shots. I really need that now! Jesus Christ! What was that?" I continue and I can't help thinking it's like a terrible, cruel, ironical, brutally honest preview of what our potential life together might come to. "Ok, God, got it. Thanks for not wasting my time by being too diplomatic." I secretly tell Him as we're heading for the old town in search of a pub.
We sit down in this place and I'm having my first mulled wine cup this autumn. He makes an indirect apology about not having ironed his shirt properly and we continue discussing about our lives prior to our first encounter. We make confessions and ask questions and it is interesting but not at all attractive. There's this distance. As if we were interviewing each other. I, for my book writing. He, for his film making. So when he drops me off in front of my house and says we should do this again, I hesitate…
"Come on, you are there, I am here… You are my friend. My miracle friend", the Konyan brother Shams brought on my very last day in Konya texts me the next day and I am crying my heart out as I call a friend to complain about my terrible loneliness. "What is wrong with me?" I ask. "Why can't I be loved?!"
"I think you are a bit crazy…" the Turkish physicist tells me three weeks later, while petting my knee over a glass of red wine in an English pub close to my home.
"Really? Me? Why?" I ask feeling very curious about the way he perceives me. Two years and a half younger, drop dead gorgeous and very smart, he makes me enjoy his public displays of affection.
"Well, with all these adventures, travelling alone, living alone with your cat… You know… Usually people want a family now. Get married, have kids, that sort of thing…"
"Well, the cat is 13, so I've had her since before I was single. And I want a family, too", I quickly reply. "And kids. Three. And I have been married, so it's not like I haven't tried that, too."
"Really? I never knew."
"You never asked."
"I know… I am sorry. How long were you married? When did you get a divorce? Why didn't you have kids?" he follows and I see it in his eyes how I'm becoming more and more interesting and less crazy as I'm answering his questions.
"You really have tried… For almost half of your life…" he concludes feeling impressed.
We like each other's company and we respect each other for being awesome, smart, funny and hot. And proud. Still, it seems too difficult to find the time to meet. Too often things just seem to come up – the gym, a friend's birthday, cinema with friends, time mismanagement. ("What is this? Is he in kindergarten or what?!" a friend asks as I confess about the troubles. Or "I can't believe you haven't figured it out yet. He's lying, of course. You're just an option for him. Do the same." another friend advises.) And I do get the feeling complete honesty has not (yet?) settled in. Moreover, I feel like being bitchy and I hate that. I hate having to play games and beating about the bush. I can do it only too well. But it bores me to death and I am too impatient for it.
"Come for wine", the creepy Canadian guy texts me at 2 am, before I finally decide to block him, after too much harassment. The first person I've ever had to block. And although our encounter was so brief and shallow, I still feel he's come too close and I want to do some sort of cleaning to get rid of all his slimy traces in my life.
"What's your work schedule?" is another kind of text I get from this other guy who finds me on Facebook "by magic", as he says. Exactly my age. Seems nice and would like to meet up with him, only he never asks. The sign of cancer. I can actually feel he's writing to me before the message beeps and my phone vibrates in my pocket. Our conversations are official and polite, sounding more like a job interview. And then, after a week of texting, he just disappears. "Do you think he's read my blog and freaked out?" I ask another former lover turned into a dear friend. "No, my dear, your blog is fabulous. If he's read it, he must really want to meet you." she tries to encourage me, but I know brutal honesty, a sharp mind and balls are a total turn off for most men out there. (Sorry, guys!)
So yesterday, as I'm watching my fifth episode from "Divorce", still in my pyjamas, there's a loud knock on the door. And another one before I get up and hesitantly make it to the door. I sense danger. I know there can only be my neighbours and friends downstairs, who also own the house. Or the police. (I don't know why I think of that, though.) I open the door and my neighbour is looking at my messy hair, feeling slightly amused by my apparition.
"Hi. There's this guy downstairs who insists to see you. Says you're not answering him. Or your phone is shut down."
And by the time he finishes talking I know exactly who the guy is and I am so angry and shocked (although I did get the feeling he might do something like this), that I don't know the exact words I use when I reply and apologise for the mess, assuring him I'll call and talk to the guy.
I close the door, pick up my phone and being so damn furious makes it so difficult to use it, so I feel it takes forever before I hear the guy's voice and want to smash his face with his phone. So I congratulate myself for not going downstairs to meet him. It all started a week ago, in a pub where I'm with other dancers from the contact improvisation Saturday evening class.
"I'm going home. Do you wanna come with me?" I ask the 29 year old German guy travelling and working with Syrian refugees.  The Turkish physicist is forty minutes late, so I've just canceled our date and I'm angry.
"Oh, my God. I am overwhelmed. Yes… You are so beautiful, really." and a few minutes later he apologises and says he's actually felt a connection with another girl. I laugh and back off.
This other guy, who's come to the pub for me, decides we are going to take a walk together. I hesitate. I know he's a bit crazy. I suspect schizophrenia. I reluctantly agree, so we end up spending a few hours together, since I've got no better plan. I figure it's a learning experience – taking a peek into another kind of reality.
"Hey, how are you? I want to talk. Let's have a coffee." he says and I just want to kill him now, after a week of turning down his invitations and avoiding all contact.
I am screaming in the phone and I don't know when or even if I was so angry before. I am sure my neighbors can hear me and I find that embarrassing. But I still can't help shouting at him. This feels so close to being raped. Having my space invaded like this. And being asked to give explanations and account for things that have nothing to do with other people except me. So I state my freedom and defend it loudly and bravely. He still accuses me of not being brave enough to face him. I remind myself the guy is not all there, but don't ease up on the firmness. By the time I hang up, half an hour later, I am calmer, but still shocked. He promises never to bother me again.
The force with which I repeat to him again and again that I have no reason to give any sort of explanation or answer any questions or see anyone I don't want to see is something I'll be forever grateful for. Still, my whole body seems to have gone through a storm and now I'm trying to recover, outrage still pouring out of my fingertips as I'm typing all this. He accuses me of being cynical. A couple of hours later, I'm wondering if I have become a heartless monster.
Earlier in the day, my former lover in Istanbul, now a very dear friend, sent me a message telling me that a mutual friend's mother had just died in a hospital in Syria. And he is worried about our friend, who hasn't seen his mother in years, but is in so much pain himself that he cannot get out of the house to see him. I send our friend a message and all the love I am capable of. And again I wonder about the way our lives are intersecting and the part Syria and Turkey are playing in my own story.
And although I was planning to go out to a concert, I change my mind and stay in, so I later light candles, make myself dinner and eat it alone in my bed, after spending the day in my pyjamas, having watched quite a few episodes from "Divorce" on HBO online. And then the very first episode from "Sex and the City". Worst choices. And I think life can be worse than deciding to eat dinner alone in your bed on a Sunday evening, in your cosy house, next to your purring cat.
Many of my friends who are married and have kids, after initially pitying me for the divorce, are now envious of my freedom.
"But you have kids and that is so beautiful. And someone to share your life with." I usually tell them. Or "You are pregnant, wow, congratulations…" and my eyes become wet.
"Yes, but look at you. You are young and beautiful and smart. You can do whatever you want. You can travel. You can date. You are free. Your time belongs only to yourself." they explain trying to convince me my life is better than theirs.
And then I say hey, Joe, take a walk on the wild side…
PS Took the photo on the theater date night, in a window in the old city.