The little fruitarian runner starts his morning training just as we get into the car, finally ready to hit the road again. His soft, repeated kicks move me to tears. I am filled with an overwhelming feeling of gratitude for everything in my life. I must be the happiest person on earth right now and it feels like I am melting into everything, no more borders, distances collapse and we all fuse. I seem to be the only one to notice, the rest of the world simply carries on. But that changes nothing.
The road to the Bulgarian border is short and wet, a blessing after all the heat in Bucharest. And then it takes forever to cross the bridge over the Danube, so we have a picnic in the car right in the middle of it, eating apricots and apples (fruit, of course, for the little fruitarian runner) and admiring the view from above the river. Being suspended on a high bridge over a big river, the car being shaken as if by small, consecutive earthquakes feels a little bit like being pregnant: all control systems are obsolete and each new breath and every passing second bring new experiences. Exciting!
An eternity and a half later, having been angered by the people crouched in their big cars cutting the line at the Bulgarian border, we are finally out of Romania. It's amazing how different everything feels once you've crossed the border of your home country. Suddenly the pressure is off and it feels like karma is finally giving you a well deserved break. Or so it feels to me.
Crossing Bulgaria feels peaceful enough and the traffic is far from busy. Rather the roads seem underpopulated, giving the traveler space to contemplate the green fields, the fat trees and the gray clouds crammed up in the sky, rain pouring down from them in soft, transparent waves of a silk curtain, its hem ardently sweeping the road.
I will not discuss the apparent poverty of the Bulgarian villages, for they are filthy rich compared to the Cambodian villages I traveled through last year. A totally different world. Their simplicity is relaxing to the eye. So interesting how little connection I feel to this country. Not much difference compared to Romania, but still, to me it's just a land in between, a space to be crossed, not a destination.
Having crossed the mountains through heavy rain and fog descending from the forest like the wise spirits of our deceased Indian ancestors, as we are approaching the Greek border the sun is shining and the temperature is rising. Farmers have already harvested their wheat crops and the lower, drier scenery brings back to memory Greek words and phrases for me to (ab)use in the coming week.
We come into yet another heavy shower as we are crossing the Greek border – a small, old place that appears as a surprise in the middle of nowhere. And the little fruitarian runner starts his afternoon training – a much softer version of his energetic morning training – pulling all my attention to my lower abdomen and bringing back images of colorful fish swimming peacefully around me while snorkeling in the Aegean Sea a few years ago.
Finally, we are in Greece! Back to one of our most beloved homes after a few years of absence. And yet it doesn't feel like Greece yet. I look around searching for that unique, familiar feeling that softens the tongue as it wrapping itself around every word, sliding against the roof of the mouth with such sensuous determination. It's still too green, too hilly and too rainy.
But as we are leaving Bulgaria farther behind, Greece gradually becomes more like her old self and l lean back, anxiously waiting for that exciting first glimpse of the sea. And finally the sun! Coming down like a blessing – a huge hand, its fingers all widely spread to reach as wide an area as possible. And there is such stillness. We barely speak a word. There is no need. A while later, old Greek music, with its coarse, serious, masculine tunes, fills the car, sweeping silence away and bringing back impressions from other lifetimes.
And then we get a little lost in a beautiful small village, taking the time to admire tiny, welcoming gardens and wondering where everybody is. Until we pass the local pub and see all the men in the village gathered there, sitting and drinking in silence, staring at the empty road. The women must be cooking dinner in their low ceiling white kitchens overlooking the back yards.
Finding our way again, we are greeted by a spectacular rainbow on the left of the road, before coming right into a storm, equipped with great lightening and all. There is no rush, so we can afford to simply be happy, our quiet company of three.
Alexandroupolis greets us a bit later, with its typically Greek narrow streets and Mediterranean modern architecture and I get my first glimpse of the sea from the harbor, which leaves me a bit unsatisfied. I get consolation by reminding myself I have a full week on an island coming up.
We check out the harbor and find a motorcycling gathering taking place. We locate the ticket office and then head to the camping. We have a ferry to catch tomorrow morning and, after the long drive today, just want to crash as soon as possible.
We put up the tent on soft, muddy ground, next to a beautiful birch tree, in spot 69, a square lined with tall pink rose bays, letting out their discreet sweet scent. Dinner is fish accompanied by butterflies, a black cat and a more rewarding view of the sea.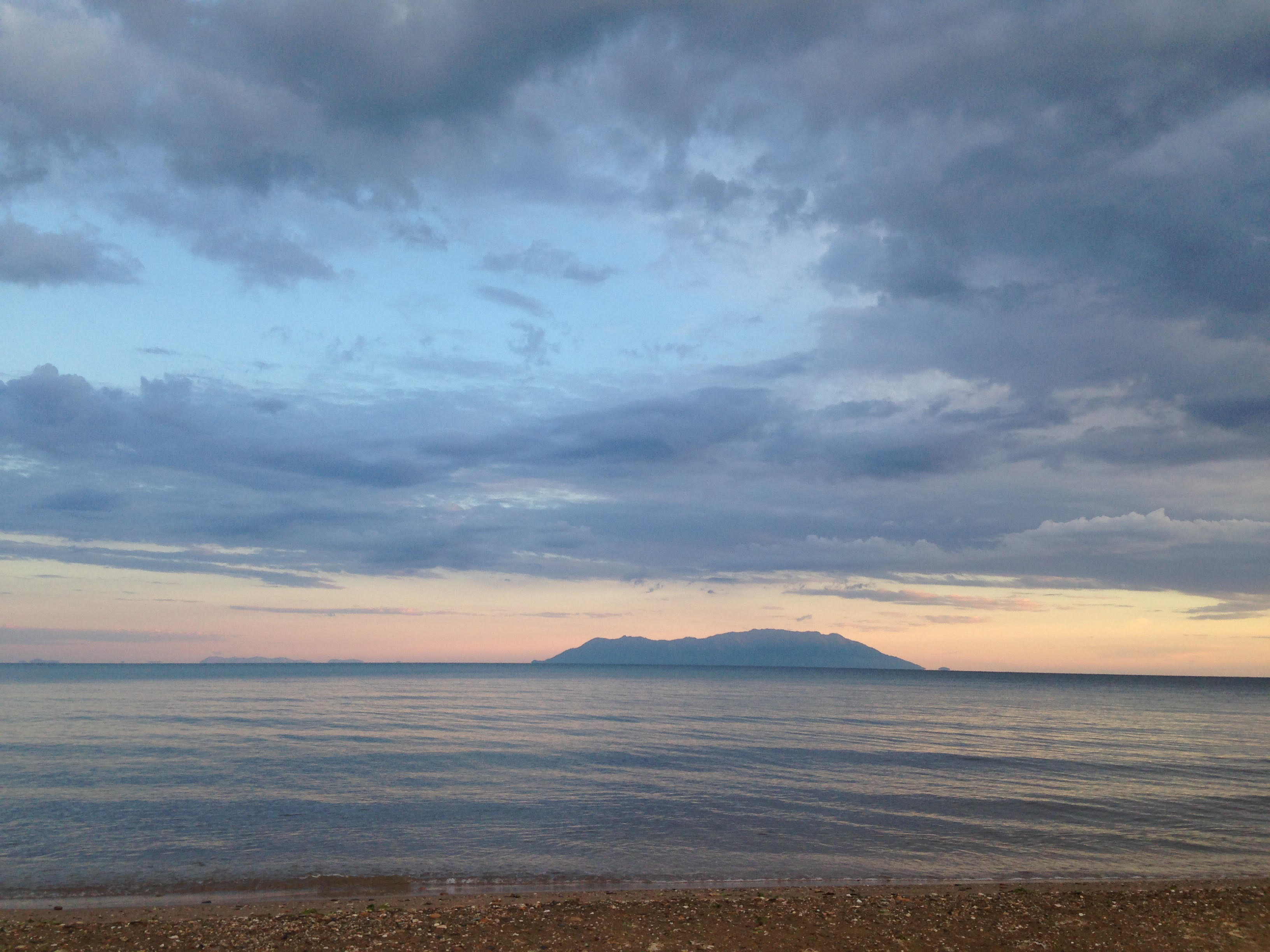 And we finally call it a day.
For more photos from this journey, follow "A lover of the road" on Instagram and Facebook.